Regular price
Sale price
$79.99 USD
Unit price
per
Sale
Sold out
Proceeds from the sale of this bottle of Seagrass with the Ocean Foundation hangtag will be donated to the Ocean Foundation, to help reverse the trend of the destruction of ocean environments around the world, specifically focusing on the conservation and restoration of seagrass meadows. 
Why focus on seagrass? It's not just because it inspires our whiskey. Intact coastal ecosystems are one of the planet's most valuable natural resources. Seagrass meadows, as well as mangrove forests and salt marshes, protect coastal communities from erosion and flooding by absorbing and reducing wave energy. They also sequester carbon and improve water quality. As sea levels rise and storm intensity increases, healthy coastal ecosystems have the potential to mitigate some of the most catastrophic impacts of climate change on coastal communities around the world. 
Seagrass highlights the grassy oceanside notes we love in rye and the opulence and spice of finishing barrels. It is a blend of American and Canadian rye whiskeys, with each ingredient meticulously sourced and finished separately in Martinique Rhum Agricole casks, apricot brandy casks, and Madeira barrels. 
View full details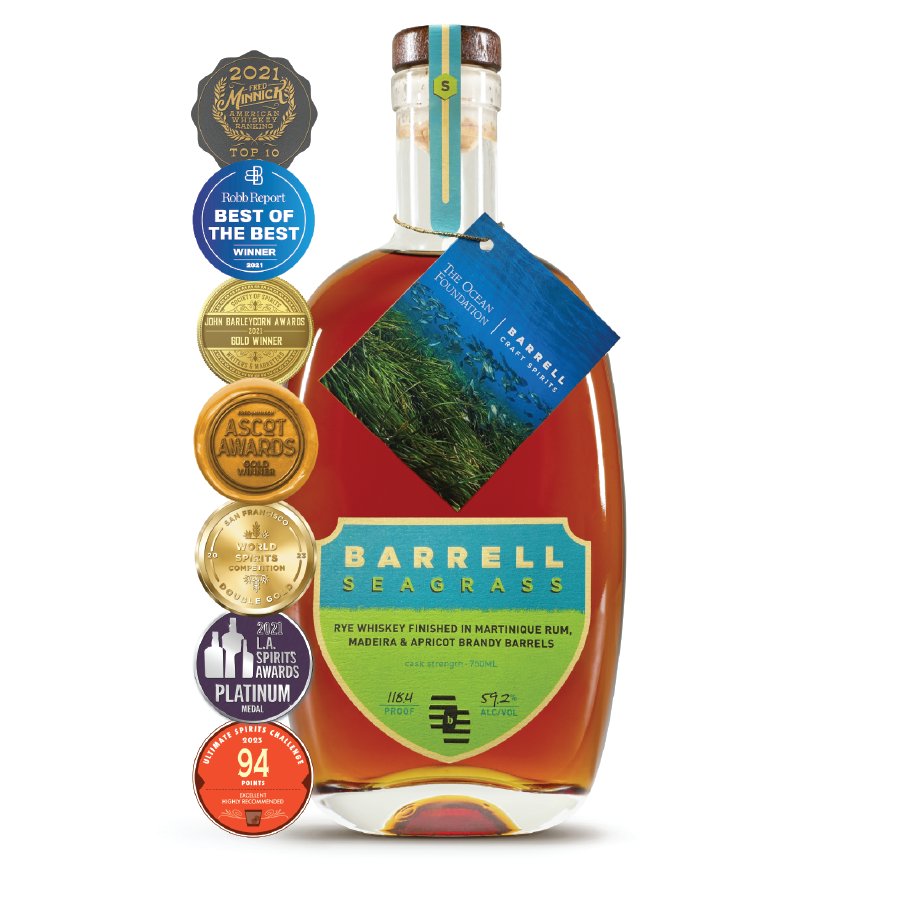 Flavor Notes
A basket brimming with tropical and orchard fruits lies at the heart of this juicy whiskey, with prominent tones of ripe apricot from the brandy casks. The tropical notes are kept in check by a broad array of spicy and herbaceous rye aromas and complemented by the delicate florals of grassy, Martinique rhum. With a splash of water, the oxidized madeira notes emerge, candying the fruit and bringing out an earthiness on the palate.
Appearance

A pale tawny with straw highlights.

Nose

High concentrations of bright, fruity esters lend a perfume-like character to the aroma. Honeydew melon and plum sit alongside a slice of ripe apricot resting out in the sun. The underlying rye is revealed by a sea-like salinity, tarragon, and elderflower.

Palate

Sweet and juicy, Seagrass opens on pear, lychee, and white grapefruit. Classic rye flavors of cinnamon, rosemary, fennel seed, and rosehip aren't far behind.  Unctuous texture and sandy tannin are complemented by a delicate astringency so common to Canadian whiskeys.

Finish

Fresh and clean, but the persistent tannin and astringency focus the powerful burst of camphor, chalk dust, and scorched earth.